BIG TOY is the 7 to 10 piece show-band currently thrilling audiences at both public venues and A-List special occasions alike.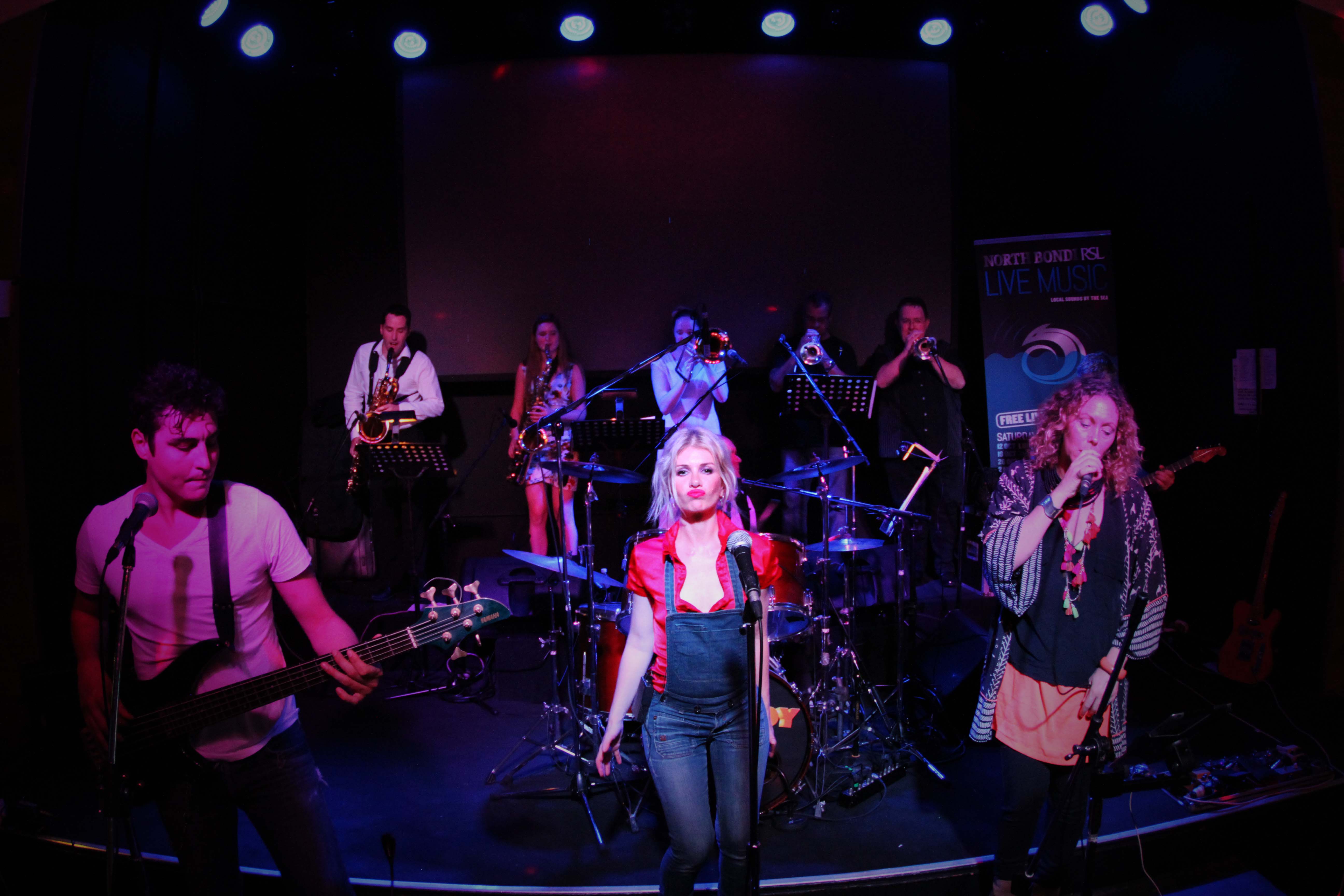 Big Toy welcomes
Charmaine Bingwa
as their lead vocalist and says a huge
THANK YOU
to Vanessa for her time with us!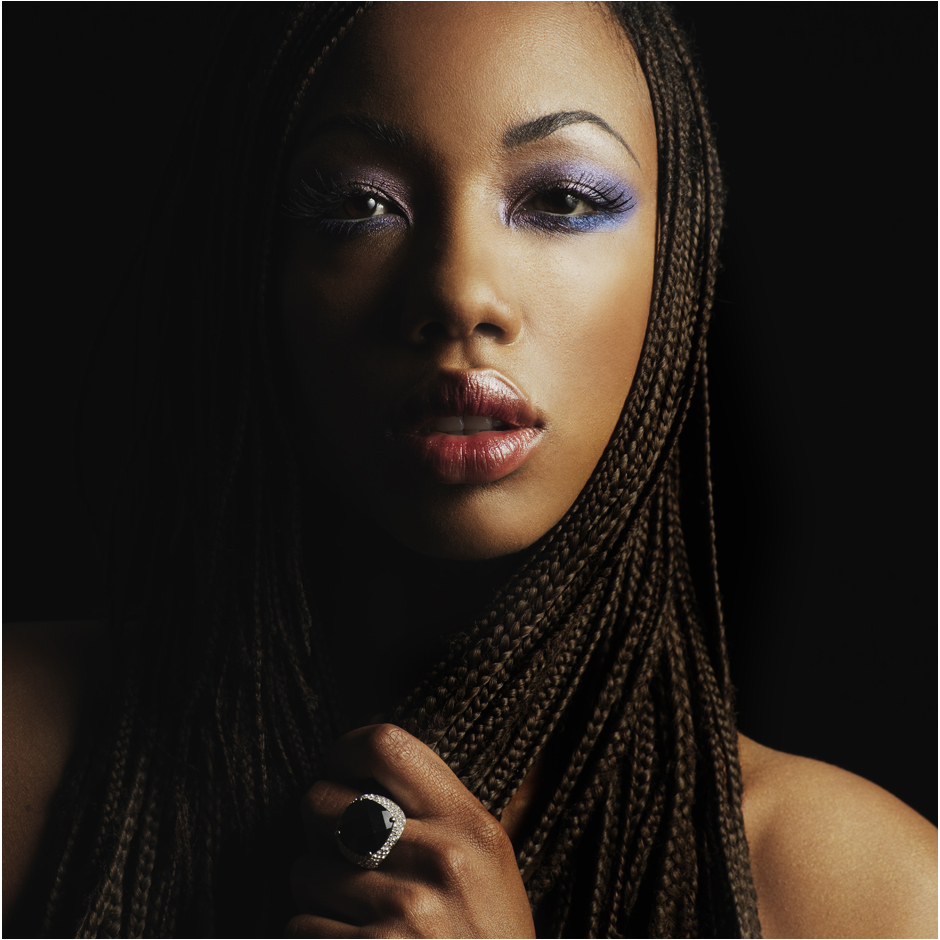 Charmaine
BIG TOY played our Prohibition Party fundraiser on July 20, 2014.
They were FANTASTIC!!
From the first song 70% of the attendees were on the dance floor and did not want to get off! A great result for a school fundraiser. The band really set the tone for the evening. Gerald was a pleasure to work with in helping me prepare for the event. Together we arranged the timings to maximise the FUN and FINANCIAL$ of the evening. The crew were great to work with, on the evening nothing was a problem and they were very flexible when schedules changed. They gave us every assistance with our MC, microphones etc and the band all dressed to complement the theme of the night
A few of the comments we received:
"It was a blast! The band was great, the food was good, the theme was great, the venue looked spectacular and the crowd had a great time. I know that people who didn't go were sorely disapppinted that they missed out . . . "
"What a wonderful night! It takes a lot to get me on the dance floor but I danced the night away with the fantastic band!"
"I just wanted to say thank you so much for organising a fabulous event last night! The decorations were fantastic, as were the band, food and drinks!"
THANKS BIG TOY, we will be booking you again in 2014!
Clare Dunstan, Prohibiton Party Event Co-ordinator, CCPS
One of Sydney's HOTTEST acts, "The Toy" as they have become affectionately known, have been an integral part of numerous successful events around the CBD and indeed Australia.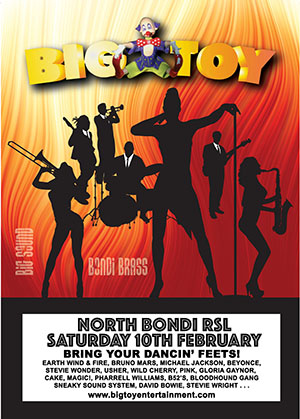 "What can I say...THANK YOU, and FABULOUS, and ABSOLUTELY DELICIOUS!! You guys couldn't have picked your audience any better, you absolutely made the night for us and the feedback from all those in attendance has been truly amazing. Our delegates didn't think we could beat the hype of last year's event.... but we did! Big Toy were so much fun, yet professional and yes, I'm so glad I just trusted you to do your thing. We actually had to remove 10 more tables from the dining floor to make room for additional dancers...if that isn't a testimonial for getting the crowd going I don't know what is! Staff keeping asking me where I found you! It was meant to be, a perfect fit. The music appealled to everyone and the atmosphere rocked. Thanks Big Toy, and yes, I'd certainly recommend you guys. I'm just hoping we have another function that requires an encore. Many, many, many thanks!"
Debbie Siebuhr, eMOCA Communications Manager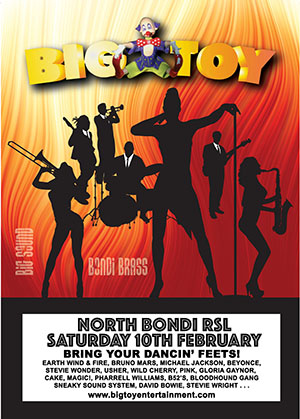 "Garvan Institute "ROCKS" with Big Toy. Booked again in 2004 for yet another Christmas Party, we keep coming back for "MORE" - which is just what the guests demand when they don't want the music to stop! Big Toy management and band members are interactive, imaginative and helpful when it comes to planning a great night."
Lynn Croft, The Garvan Institute

BIG TOY have performed for some of the largest corporations in the world, alongside some of the biggest entertainers in the country. BIG TOY has within its ranks & draws talent from some of Sydney's top pro-musos, those who can be seen regularly with high profile artists, such as John Farnham, Queen & also during TV appearances like Australian Idol.
If your venue or special occasion requires a high energy show with a big sound then you have come to the right place! Welcome to the home of BIG TOY!
When you book Big Toy you are also helping to protect the wider Australian music community & industry as a whole. Big Toy uses no "sequencing" or pre-recorded backing tracks. Big Toy is 100% LIVE ENTERTAINMENT!